Joel Pollack, owner of Big Planet Comics at 7939 Norfolk Ave. in Bethesda, has retired.   Pollack tells us his love of the comics medium was a driving force in Big Planet's creation, but it was the wonderful people he met through his business that sustained him all of these years. The comic shop has been purchased by longtime employee and partner, Nick Liappis, and will remain in business.
According to Pollack, "The business started on the second-floor of 4865 Cordell Ave. In 1991, we moved to 4908 Fairmont Ave. When the wrecking ball came for the Fairmont store in 2012, we high-tailed it to 4849 Cordell where we spent eight glorious years until Covid struck. We were forced to seek radically lower rent which we did by moving to a second-floor location at 7939 Norfolk. So I started on a second-floor and finished on a second floor. Funny, the same family owns both of those buildings."
Big Planet Comics posted the following message on its social media pages on January 3rd:
"The end of an era…. A passing of the torch…. Big Planet Comics founder Joel Pollack has retired after more than 36 years at the helm of the Bethesda landmark. The shop will continue on in the more-than-capable hands of Nick Liappis, manager of the Big Planet U St shop for the past decade, and member of the Big Planet family going all the way back to the old days of the Vienna store. The shop will now be open for in-store shopping:
Tuesday-Friday 11-7 Saturday 11-6 Closed Sunday and Monday"
Joel's story, courtesy of bigplanetcomics.com:
Big Planet Comics founder, Joel Pollack, is a life-long Washingtonian and a life-long comics enthusiast. Here's his story.
I was born in 1949, and consider myself part of the first television generation and first rock'n'roll generation. In fact, it was TV that brought me to comics, as I was an avid fan of The Adventures of Superman and The Lone Ranger. When I was 8, I was sick at home. My mom was nice enough to get me something to read and it turned out to be Adventure #237 featuring Superboy in "The Robot War of Smallville". That comic book went so far beyond anything the TV show offered, I was instantly hooked. Sadly, my mother passed away the following year and comics became my refuge from grief.
My mother's passing brought an unexpected twist to my life. "I ended up summering at a lot of relatives homes. One of my aunts, a kind woman named Kitty Goldberg, lived in Manhattan, very near Broadway and 79th. Since we rode the subway frequently, we passed a newsstand that stocked a wide array of comics. Aunt Kitty would always buy me a few, further encouraging my passion. Kitty Goldberg's influence on me cannot be over-stated. You see, my aunt had a close friend who worked at the offices of DC Comics. That friend's name was Ira Schnapp.
Of all the names in the history of comics and DC Comics in particular, the name of Ira Schnapp may be the most overlooked. He was a designer and his touch on the DC style is incalculable. He refined the original Superman Logo, he designed most of the cover logos, and he did almost all the lettering for each cover (Schnapp designed the Comics Code Authority symbol). Schnapp also did the house ads. He was highly influential for the tone and success of the DC style for a very long time.
[I've only recently learned of Ira's life before comics. For an incredible glimpse into a fascinating life, go to http://www.dialbforblog.com/archives/372/ ]
Some of his designs were simple, yet ultimately very memorable. It was Schnapp who took two covers, put them at a slight angle, (with the bottoms turned towards each other), and added the DC Logo between them. With the addition of his distinctive lettering style, he created a unified feel for DC advertising. My aunt's friendship with Schnapp led to me visiting the DC offices not once, but twice. "The first time, I spent the day with Murphy Anderson. He was a real gentleman and showed me the most incredible amount of patience. The second time, I spent the day watching Curt Swan draw a cover for Action Comics #328. It was amazing. Unlike most comic artists I've known since, Curt drew that cover on an upright easel. (Most comic artists work on a flat or slightly inclined table.) As if this great experience wasn't enough for the young fan, each time I left the office of DC Comics, I was given original artwork to take home. The art is long gone now; I was a kid; how could I know what they really would mean, but the gesture left me with a life-long loyalty to DC Comics.
Years later, I was at the very First Baltimore Comic Con which was held in 2000 in Towson, Maryland. I got a chance to speak with Murphy Anderson and, of course, he didn't remember the visit I had made to the office, I mean it was 1964 when that happened, for Pete's sake! But when I mentioned the name of Ira Schnapp, his face lit up. Murphy told me that in all the years people had been talking to him, that this might be the first time someone had mentioned Ira's name. He shared several memories with me and than told me he wasn't sure, but before Ira had come to DC, he had designed US Postage stamps. Mr. Schnapp continued working until he passed away in 1970.
My first favorite comic book artist was Carmine Infantino, and I wrote to DC to let them know my opinion. Two of my letters were eventually published in Detective Comics #342 and 343. As a result of my visits to the offices of DC, I decided to work at becoming an artist. Going to the offices and seeing how they actually created the art and the books made me stay involved with comics longer than I might otherwise have. It was the major inspiration towards me wanting to become a professional artist.
I went to my first convention in 1968. That was the first major convention in the country. It was held in Manhattan and Phil Seuling ran it. They called it 'SCARP-Con (SCARP was an acronym for Society for Comic Art Research and Preservation). Since than, I have been to so many conventions that I can't really remember much about that first one. I only know that I immediately loved the atmosphere and the people involved. I worked at honing my art skills, and still continued to attend every Con that I could. I went to every July 4th Con that Seuling ran. Since they were always held Manhattan in the summer on the Fourth of July, it was easy for me to get there.
It was through my attendance at the Cons that I began to see where my art career was headed. One year, I was in line at the registration area, holding my art samples to show DC. I notice the guy next to me also had some samples. We began talking. He told me his name was Howard Chaykin and that he was bringing in a story he wrote and drew called 'Cody Starbuck". After I saw his samples, I despaired of my lack of professionalism. We ended up becoming friends and years later, he was kind enough to give me the very art that he was holding that day. He gave it to me on the condition that I would never publish it or he would have me killed! I'm pretty sure he was kidding.
I did publish a few pieces professionally. I drew a cover for Rocket's Blast/Comicollector (a precursor to Comic Buyers Guide) in 1968. In 1976, I had an illustration in Fantastic Magazine. But I was basically a lazy person, and drawing comics is a hell of a lot of hard work. I kept comparing myself to the people who were coming up and the people I was meeting, and the truth is that I couldn't hold a candle to any of them.
I used to visit the University of Maryland Book Exchange every week. I was looking for the art that was on the covers of science fiction books. Specifically, I was looking for Frank Frazetta and Jeff Jones covers. One day in 1971, I noticed there was a new sign hanging in the store and I asked the girl behind the counter who drew it. I thought it was incredible. She told me that the artist was an intern and he happened to be in the back working. If I wanted, I could walk right back and introduce myself. That is how I met Walt Simonson. He was home on vacation from the Rhode Island School of Design. We are still friends to this day.
Attending conventions was a great way to meet people. I helped with the third Metro Con in 1973. The first two, organized by Gary Groth, had been in '70 and '71 respectively. For the one to be held in 1973, my friend, Warren Bernard was working with Groth. I bring this up because at this Con, Warren was able to secure a rare (for the time) showing of the film 'Freaks'. Attending the convention that year was Bernie Wrightson. It was the first time he had seen the movie and it proved to be a major influence on his work over the next few years.
The guest list for that 1973 Con was impressive. We had Denny O'Neil, Bernie Wrightson, Jeff Jones, Simonson, Chaykin (who by that time was drawing Swords Of Sorcery for DC) and Archie Goodwin. Despite the major talent we had, attendance was low and the Con lost money.
Since I had decided that my dreams of a career in art weren't real, I took a job with my father's drapery business. For the next ten years, I attended Cons on the weekend and, during the week, did all the jobs I could for my father's business. I worked in installation, in the office and eventually, became the office manager. I got a lot of experience in dealing with people on many different levels, as well as learning rudimentary bookkeeping. It was the cons and fandom that provided an outlet from the everyday. I just met so many people. In 1976, I worked for Bud Plant who was just a super-nice guy. Other years, I just attended, or maybe helped other friends who needed a hand.
All these years at the Cons began to pay off. In the eighties, I began to see a window opening up, acting as a sales agent for the artists I knew. My early sales came from the guys I knew: Wrightson, Jeff Jones, Dave Dorman and John Jay Muth. I often bought the art at tax time so that I could get the most reasonable prices possible! Eventually, I published four art catalogs. They were called Fantastique Illustration Catalog, and you can still see them pop up on Ebay.
For a few years, this was enough for me, but in 1985, I got married and that changed things real fast. For years I had toyed with the idea of opening a store.  By '86, I had made my mind up and began to do the preliminarily research. I was checking out locations, trying to figure out what direction the store would take. One thing I knew, and had known for a while, was that Bethesda, MD needed a comic shop. While Bethesda is in Maryland, the city is a suburb of nearby Washington DC. It has a fantastic population, both in culture, education, and income. The area was definitely under-served when it came to comics. I was going to open in a marketplace that had little, if any real competition.
Several other factors were present at that time. First off, in 1986, there was tremendous amount of publicity for comics themselves. From the rebooting of Superman to the Dark Knight and the Watchmen; the word was beginning to spread that comics were hot.  Secondly, there was someone else locally who was thinking along the same lines. A longtime friend, Gene Carpenter, was thinking of opening a store in Bethesda.   We decided that it would be easier to work together than compete against each other. Together, we found a second floor space right in the commercial district of Bethesda. The second floor may not sound like anything great, but the real estate in this town is very expensive. We felt lucky to find what we wanted in such a great location.
The next step was figuring out how to outfit a store. It is one thing to help set up temporary fixtures for a convention or show, it is another to create something with a sense of permanence. Here, we really lucked out. Back in 1974, at a convention, I had met a postman named Steve Geppi. We were always cordial and got along, but had not really connected with each other. Over the years, when I would see Steve, I would even suggest that he open a store in Bethesda, but it just never happened.  So, now it is 1986 and he was trying to keep a store open in the vacation town of Ocean City, MD.  The store was doing fantastic business, but it was only doing that business half of the year. The rest of the year, no one was coming down to spend time at the beach on the Eastern Shore. To make it short, he gave us a great deal on the fixtures and racks that he was using in the Ocean City store. He, and his than business manager, Bob Cook, really did right by us. They gave us a great deal and it helped a lot. I still appreciate it. This made our opening a lot easier for us.
Our store, Big Planet Comics (named after the novel by Jack Vance), opened in 1986 and was a success out of the gate. We had accurately judged our products' unavailability in the community. Gene and I had a popular store from the very first day. That first day took on added significance, as it was the first time I met Greg Bennett face-to-face.
Greg Bennett had been calling me for several months, picking my brain about comic art and comic history.  He was a high school kid who also had been working at the local library where another friend of mine, librarian (and young adult author) Annette Curtis Klause, encouraged him to contact me.
After a year or so of business, I felt that my business partner and I had divergent ideas about the future of Big Planet Comics. Gene wanted to concentrate on back issues and collectibles; I felt that the future was current comics and especially collected edition books, with a focus on the reader as opposed to the "collector". We came to a friendly agreement and Carpenter went on to work many of the conventions, both locally and nationally. He is one of the most respected people I know in the industry. In the Washington DC area, he is probably the best. We are friends to this day.
After four years, I was doing enough volume that I could justify a move to a more expensive ground-floor location. I found a great location only two blocks away. We moved in March of 1991, and business increased dramatically. The new location was directly across from the most popular restaurant in Bethesda, the Rio Grande Café.
That really increased foot traffic. Our store became easier to find and much easier to accidentally stumble across.
When it comes to staffing my store, I try to hire my customers. They know the product, they know what my customer service beliefs are, and they really want to work. My very first employee, Greg Bennett is now my business partner.
After working at the store in high school, Bennett had gone away to Dickinson College in PA. During the summers and holidays, he would always return to work in the Bethesda store. After finishing college, he eventually came back to work and together, Greg and I decided to open another store.
I had my eye on Vienna VA for quite a while. Like Bethesda, it was a reasonably affluent suburb of Washington DC, also suffering a dearth of comic book outlets. The similarities were obvious. I kept thinking how well the idea of being off the beaten path (with lower rent) had worked in MD, so I wasn't exactly worried about the location. We would make people want to come to us.
Greg Bennett ended up opening and managing the store. This time though, there was no magic solution to the problem of fixtures. From the beginning, we had to get fixtures made to meet the demands of the space. We were able to have several custom built racks made and also utilized other sources. What made it easy is that we had our experience to help us. We knew what customers would like and we knew what our priorities were. Eventually, Bennett's participation evolved into a partnership, and, ultimately, full ownership.
As a native Washingtonian, it is inevitable that I would turn my attention to the Nation's Capital. Greg and I had talked about a location in DC from the time we had started working on the Vienna store. I had a friend who owned a used bookstore in Georgetown, a trendy section of DC. I had told him for years that he should add comics, or go into comic books completely. He was never much for the idea. One day, in 2001, he decided to get out of the business and asked me if I wanted to rent the space. What was great about this was that he had tremendous amount of shelving and bookcases that we could get with the deal. This made the offer too good to resist. With one store each, Greg and I decided to be co-owners on the Georgetown store.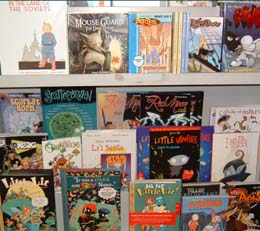 There was an unforeseen problem though. One of the reasons we decided to open the store was that another comic store two blocks away was going to close. However, at the very last minute, a buyer had emerged. So all of a sudden, for the very first time, we were in direct competition with someone! This time, the Big Planet store was not a success on the first day, or the first year either. It has taken some time. Ultimately, our competitor sold, and the new owner relocated several miles away.
In 2005, Greg Bennett took a hiatus, and sold his interests in the Vienna and Georgetown stores. In 2007, Greg returned and became my business partner in both Georgetown and Bethesda. Meanwhile, former employees Jared Smith, Peter Casazza, and Nick Liappis also became partners.
(Joel retired in 2023!)
'