'
Local Comedy Club Presents Live Stand-Up Show Tonight On Zoom
Silver Spring based Improbable Comedy will be hosting a live virtual stand-up show tonight at 8:30PM on zoom. According to their website, Improbable Comedy aims to book more women, LBGTQ+, BIPOC, and immigrant comedians as well as comedians with disabilities.
This is a "pay as you can" event, meaning you decide the amount you pay. Average ticket prices for comedy shows range from $15-50. Get your tickets at https://www.eventbrite.com/e/the-mother-of-all-comedy-shows-live-on-zoom-tickets-141989298815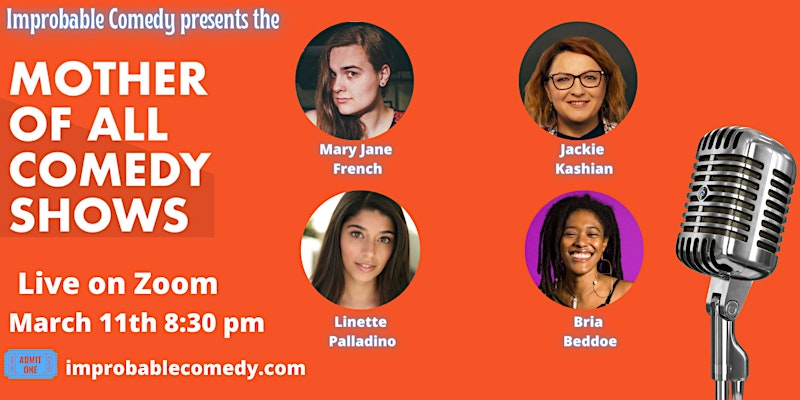 The MOTHER of all Comedy shows: Live on Zoom is a virtual stand-up comedy show
About this Event
Need a pick me up? Bored during the pandemic? We feel you!
Join us for some laughs at The MOTHER of all Comedy shows!
A show bringing you live stand-up comedy performances in the comfort of your home. This show features an incredible ALL LADIES lineup of comedians! Come and see: Bria Beddo, Mary Jane French, Linette Palladino and Jackie Kashian
This is the perfect way to escape the pandemic and laugh away your worries with some sassy and witty fun!
Grab some snacks and sit back, relax, and laugh! Tickets are Pay What You Can.
The Zoom link will be sent out 30 minutes before the show. More info and ticket/registration link at www.improbablecomedy.com
**Pay What You Can. Any amount is welcome but please be as generous as possible. A live comedy show ticket would cost between $15 – 50. Giving generously allows our performers and production staff to support themselves and keep creating!
'