Now you can add a "twist" to your shopping experience by sipping on your favorite alcoholic beverage while strolling throughout Tysons Corner Center (1961 Chain Bridge Rd., Tysons, VA). You can purchase your favorite drink at any of our participating restaurants listed below. If a restaurant is not listed, they are not approved to sell alcohol for common area consumption. FAQ and additional info below, courtesy of the mall:
Can I carry an alcoholic beverage around Tysons Corner Center? Yes! Those that are 21 years of age and older can now purchase an alcoholic beverage from participating restaurants and stroll throughout the common areas and most stores at Tysons Corner Center. Beverages must be in a logo disposable cup provided by the restaurant where you purchased the drink.
Where can I go with my sip & stroll beverage? You can now roam with your cocktail on the Plaza and in the common area of the mall. You may take your beverage into retail stores with the signs that say "C'mon in with your drink." Please see above for a full list of stores that will allow alcoholic beverages. No alcohol is permitted in any parking areas or the parking garage.
Can I bring my own alcohol to Tysons Corner Center? No. Only alcoholic beverages purchased from participating restaurants may be taken outside the restaurant and into the shopping center. No outside alcohol is permitted.
Can I take my drink into a retail store while shopping? In most cases, yes!  However, a few stores prohibit alcoholic beverages inside. If you see a sign on the store that reads "No alcohol past this point," please do not enter that store with your alcoholic beverage.
Can I take the drink that I purchased from a participating restaurant into another restaurant? No. You are welcome to consume your beverage in the common areas and participating retail stores, but you cannot take a to-go beverage purchased at a participating restaurant into a different restaurant.
Can I put the to-go drink in my own cup? All beverages must remain in the original logoed cups from the participating restaurants. Any alcoholic beverages on the plaza, in the common area of the shopping center, or in a participating retailer space not in an appropriate cup will be discarded.
In Effect Daily During the Hours Below
(Individual restaurant hours may vary):
Monday – Saturday: 10AM-9PM
Sunday: 11AM-7PM
Grab a sip & stroll drink at one of these participating restaurants:
Participating Retailers, Take Your Drink to Shop at these Participating Retailers:
Aesop
Angel Nails
Ann Taylor
Arc'teryx
AT&T
Athleta
Aveda
Ballard Designs
Banana Republic
Barnes & Noble
Bath & Body Works
Beauty Nail Bar
Bloomingdale's
Blue Nile
Candytopia
Casper
Chico's
Christmas to Remember
Clean Origin
Coach
DOPL
Diesel
Dyson
Everlane
Fabletics
Fast Fix Jewelers
Foot Locker
Fossil
Francesca's Collections
Free People
Garage
Haagen-Dazs
Helzberg Diamonds
Interior Define
Istanbul Kitchen
J.Jill
Kasi Wax
Kay Jewelers
Kendra Scott
Ker Ezhi
Kids Foot Locker
Kiehl's
Lego
Lenkersdorfer
Loft
Lolli and Pops
M.A.C Cosmetics
Macy's
Na Hoku
Nova Orthodontics
Oak & Fort
Oakley
Pacsun
Parfums de France
Peloton
Prince Jewelers
Psycho Bunny
Sephora
Sheepskin Gifts
Shilla Bakery
Shinola Detroit
The Shoe Shoppe/Tailorcraft
Solstice
Soma Intimates
Spencer's
Squishable
Sterling Optical
Superdry
Talbots/Petites/Woman
Teriyaki Way
Therabody
Third Love
Tonal
Tonieh Boutique
True Classic Tees
Tuft Tuft
Untuckit
Upwest
Vans
Venchi
Victoria's Secret/PINK
Vinci Leather
White House Black Market
Windsor
Please Drink Responsibly: Guests at Tysons Corner Center who are 21+ and over can consume alcoholic beverages purchased from participating restaurants within the common area of the shopping center, Plaza, and specified Retail Stores during the hours of operation, set forth above on this page. To participate in the sip and stroll program, all guests must be over the legal drinking age, all alcoholic beverages must be consumed in a plastic container. Please drink responsibly. Macerich and the participating restaurants reserve the right to refuse service for any reason.
Sip & Shop Map: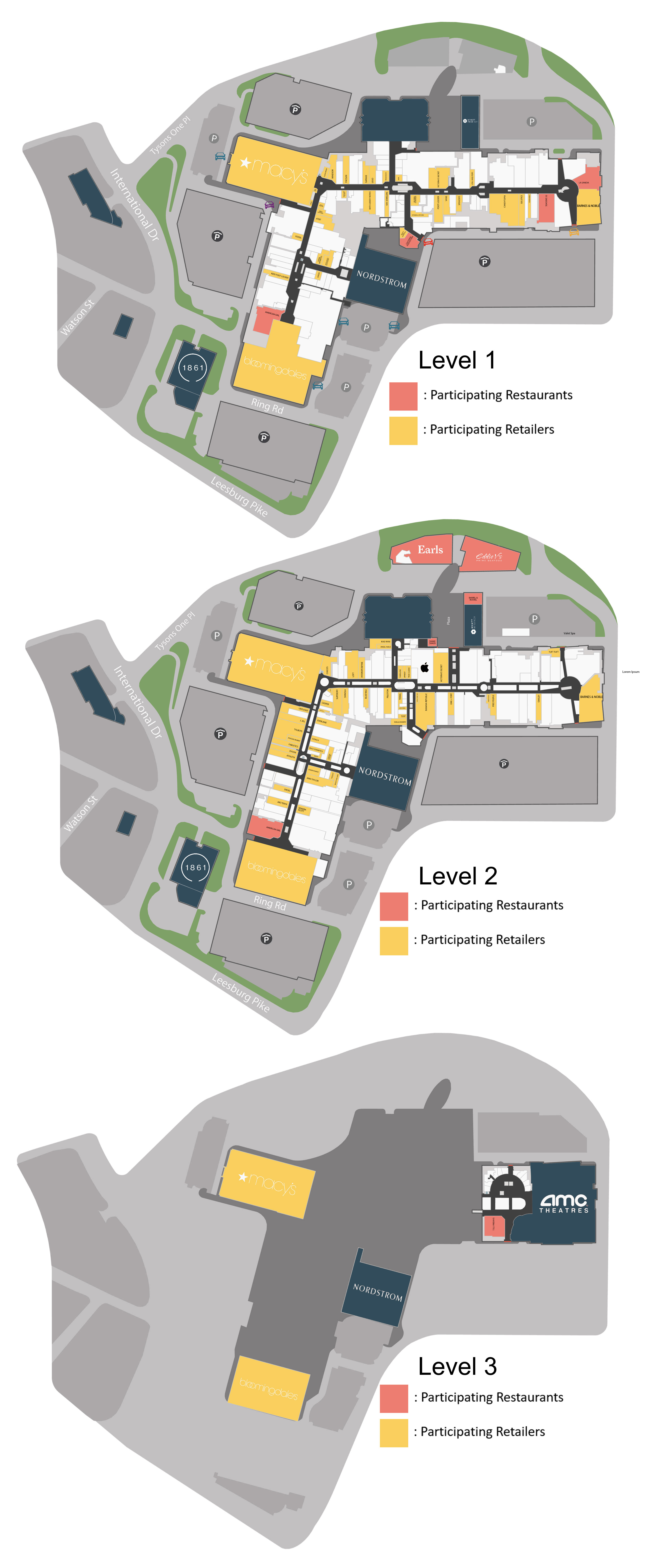 Recent Stories
SATURDAY 12/9/23 Join us for the ultimate year-end celebration of art, vintage finds, and fashion at CNXN.WORLD's Art & Vintage Event! Sponsored by So What Else, Inc. We will be hosting a hygiene product drive as well! Please bring items like soap, toothpaste, shampoo, deodorant, and more to donate and make a difference. Sign up for a chance to WIN a $40 credit you can use towards any purchase at the event! We've got food, drinks, and more prizes during the event! Vendor Lineup: @thefoundrymd @poetic_sole @on2thenext_vntg @fleetwoodmarket @anatething @bimdayz @thriftlifeadvintage @yester_dayz @bratty_couture @camryncurtiss @crushthrifts @888deadgirl @ken_blendz @misfitbodega @mando.nc @mozartsthriftshop @seamslikenew @skuffstore @the.crucial.cookie @sowhatelsehelps Saturday, December 9th, 20231:30 PM to 6:00 PM4924 Wyaconda Rd, North Bethesda, MD 20852. See you there!