Per the State of Maryland: Governor Wes Moore today delivered the keynote address at the Maryland Minority Business Counts "Engage and Elevate" event at Coppin State University. The governor was joined by Comptroller Brooke Lierman; Maryland Department of Commerce Secretary Kevin Anderson; and Maryland Department of General Services Secretary Atif Chaudhry. Also in attendance was Governor's Office of Small, Minority, and Women Business Affairs Special Secretary Yolanda Maria Martinez; Greater Baltimore Urban League Chief Executive Officer Tiffany Majors; and Coppin State University President Dr. Anthony Jenkins, Ph.D.. Governor Moore spoke before hundreds of event attendees who gathered to promote state and municipal contracting opportunities and resources for minority owned businesses.
"One of my top priorities as governor is closing the racial wealth gap in the state of Maryland. Meeting our Minority Business Enterprise goals as a state and a nation isn't just an opportunity, it's an obligation," said Gov. Moore. "To date, we've advanced over half a billion dollars in procurement awards to minority and women-owned businesses, and we're just getting started. We don't have to choose between an economy that is competitive and an economy that is equitable. We can, and we will, have both."
The Maryland Minority Business Counts initiative is a coalition of advocacy, business, civic, and community leaders dedicated to supporting and encouraging existing and future Black business owners across the state. Participants in today's event had the opportunity to directly engage with state government agencies and attend panel discussions pertinent about doing business with the state.
This year marks the 45th anniversary of Maryland's Minority Business Enterprise Program. The Moore-Miller administration's goal is to increase state government's performance toward reaching its 29% minority business enterprise goal, as part of their efforts to close the racial wealth gap and promote access to work, wages, and wealth. To learn more about Maryland's Minority Business Enterprise program, visit gomdsmallbiz.maryland.gov.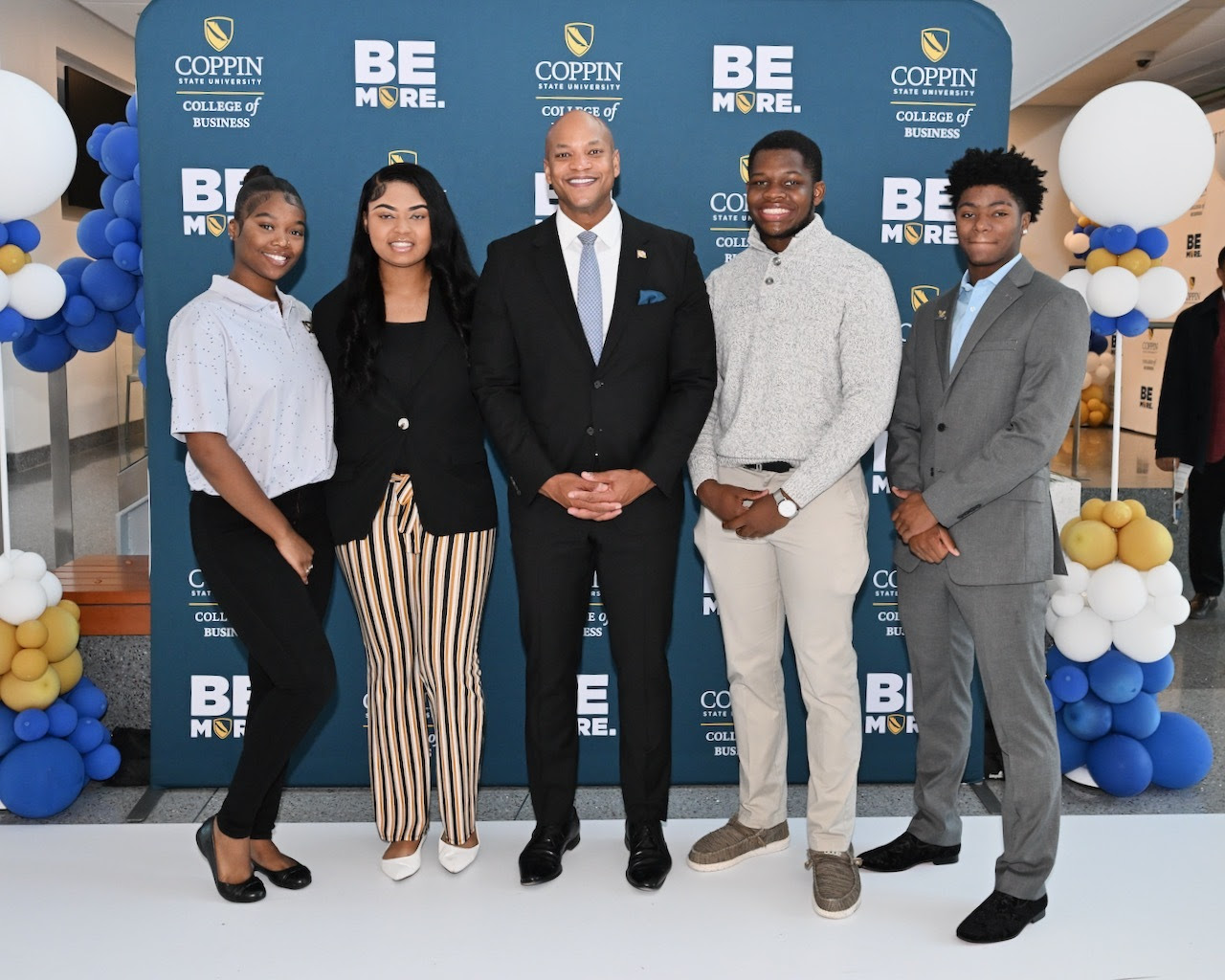 Following the Maryland Minority Business Counts event, Governor Moore toured Coppin State University's new College of Business building. Coppin State's College of Business is focused on teaching, research, and service within emerging fields such as data science, entrepreneurship, and e-sports. The state-of-the-art facility promotes a legacy of teaching, research, and service and is home to the Center for Strategic Entrepreneurship, which develops three key pillars of economic development, education, and social and community innovation.
The Moore-Miller administration is committed to investing in entrepreneurship and business development in Maryland and is committed to using service and civic innovation to strengthen Maryland's relationships with community partners. The administration also committed more than $420 million in state support for Maryland's historically black colleges and universities.
Recent Stories
SATURDAY 12/9/23 Join us for the ultimate year-end celebration of art, vintage finds, and fashion at CNXN.WORLD's Art & Vintage Event! Sponsored by So What Else, Inc. We will be hosting a hygiene product drive as well! Please bring items like soap, toothpaste, shampoo, deodorant, and more to donate and make a difference. Sign up for a chance to WIN a $40 credit you can use towards any purchase at the event! We've got food, drinks, and more prizes during the event! Vendor Lineup: @thefoundrymd @poetic_sole @on2thenext_vntg @fleetwoodmarket @anatething @bimdayz @thriftlifeadvintage @yester_dayz @bratty_couture @camryncurtiss @crushthrifts @888deadgirl @ken_blendz @misfitbodega @mando.nc @mozartsthriftshop @seamslikenew @skuffstore @the.crucial.cookie @sowhatelsehelps Saturday, December 9th, 20231:30 PM to 6:00 PM4924 Wyaconda Rd, North Bethesda, MD 20852. See you there!