Below is a list of ten of our favorite things to do in Montgomery County during the holiday season. Did we leave any of your favorites out? Let us know in the comment section!
10. The Garden of Lights at Brookside Gardens

Date: November 19, 2021 – January 2, 2022 (Closed November 22-25 and December 24-25, 2021)
Time: 5:30pm to 9:30pm nightly
Location: 1800 Glenallan Avenue, Wheaton
Tickets: https://montgomeryparks.org/parks-and-trails/brookside-gardens/garden-of-lights/
For the 23rd season, Garden of Lights will transform Brookside Gardens into a magical winter wonderland, with twinkling lights and glimmering displays decorating paths and flowerbeds throughout the 50-acre site in Wheaton.
The one-half mile walk-through display consists of more than one million colorful LED lights, many handwoven into original works depicting animals, flowers, and other natural elements. The event also features computerized light displays matching lights with music and fog bubbles. Sweet and savory refreshments will be available for purchase, and the gift shop will be open. The conservatory and Garden Railway exhibit will remain closed this year.
"We're excited to bring back the Garden of Lights in 2021 after having to cancel in 2020 due to the COVID-19 pandemic. There are new measures in place to ensure the health and safety of our guests, but they will still find our one-of-a-kind light displays and the magical experience of the Gardens at night," said Stephanie Oberle, Director, Brookside Gardens.
New this year, all guests ages 3 and older will be required to pre-purchase timed-entry tickets. Tickets will be available to purchase beginning October 12, 2021, on the Eventbrite ticketing service. The Gardens, Visitor Center, and Conservatory will close daily at 4 p.m. and reopen at 5:30 p.m. for the exhibit.
9. Ice Skating at Rockville Town Square

Date: November 22, 2021 through March 20, 2022
Time: Sun 10am-10pm, Mon through Thurs 12pm-10pm, Fri 12pm-11pm, Sat 10am-11pm
Location: 131 Gibbs St, Rockville
Tickets: https://orders.hazlnut.com/menu/b/Tristate%20Ice%20Management/n/720/p/327/g/109844
The ice-skating rink at Rockville Town Square is open to the general public beginning November 22. According to the rink, this season reservations are required and are available two weeks in advance. You will need to reserve your arrival time. Non-skaters who wish to enter the fenced rink area are also required to pay admission and need to make reservations as well.
Click here for more information on pricing, holiday hours, group rates, events and lessons.
8. Metropolitan Ballet Theatre's Performance of The Nutcracker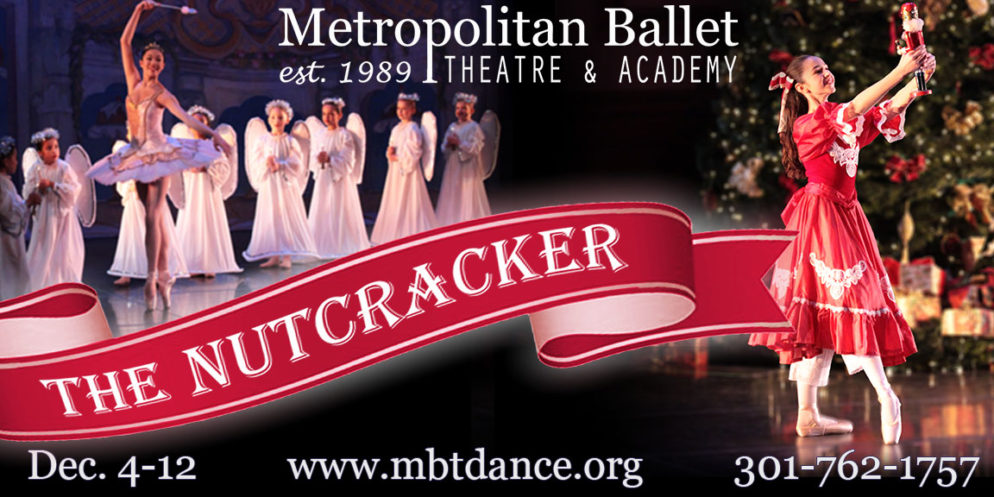 Date: December 4-12
Location:  51 Mannakee St, Rockville
Tickets: https://mbtdance.booktix.com/
The Metropolitan Ballet Theater has been performing the Nutcracker at the Robert E. Parilla Performing Arts Center at Montgomery College since 1989! Details on this years performance from MBT:
This holiday season, enjoy the magic of the Nutcracker and go on a journey with Clara as she helps save her beloved Nutcracker, dances through the snowy forest, and travels to the Land of the Sweets. Audiences will love meeting all of the Nutcracker's favorite characters, such as Spanish Hot Chocolate, Mother Ginger and her dancing Polichinelles, and the enchanting Sugar Plum Fairy! Metropolitan Ballet Theatre is excited to be back at the Robert E. Parilla Performing Arts Center performing The Nutcracker (full length) and The Nutcracker Suite (short length). Our Nutcracker Suite is a wonderful option for younger audiences who want to experience the ballet in under one hour and be introduced to Tchaikovsky's classical score and the beauty, strength, and grace of ballet. Audience size will be limited due to safety protocol for Covid-19, so get your tickets today and be a part of this seasonal ballet tradition! www.mbtdance.org 301-762-1757

Montgomery County is home to several great craft breweries, many of which offer heated tents, patios, and yurts during the winter.
7. Lone Oak Farm Brewing Company at 5000 Olney Laytonsville Rd in Olney offers comfy tents that include a private server will that deliver anything you order off the Lone Oak menu – right to your tent!

Like The Tent Grove, The Farm's nearby fire pit area is outlined by white cafe lights. Each fire pit boasts six beautiful Adirondack chairs, surrounding a toasty fire pit. The Lone Oak staff will keep your fire roaring – while you simply sit back, order from your private server and have everything delivered right to your pit!
But that's not all. The Branch Pavilion (a fabulous 300+-person structure completed this past Spring) is packed with picnic tables and free mushroom-style heaters to keep guests warm while enjoying a pint. On many weekends, live music played from here is projected across the property.
Tents and firepits are available by reservation only. They're both a great way to book a guaranteed spot at Lone Oak Farm! Each tent or fire pit rental is for 1 hour and 45 minutes.
Visit  www.loneoakbrewingco.com for more information and pricing.
6. Waredaca Brewing at 4017 Damascus Rd in Gaithersburg is all about the yurts!

Yurts are set for groups of 10 with room to accommodate more guests if you double up or reserve additional tables. They are heated and can be purchased with additional amenities like a fire pit, s'mores kit and pre-ordered food. Reservations are for two hours and start at $65! Book yours online today at
orderwaredaca.com!
Waredaca's tasting room is open Thursday and Friday 4-8pm, Saturday 12-8pm and Sunday 12-6pm
For more information, and to make a reservation, visit www.waredacabrewing.com
5. Holiday Street Fest & Fireworks at rio


Date: Saturday, December 11
Time: 2-7pm
Location:  Grand Corner Avenue (near Dick's Sporting Goods) in Gaithersburg
Holiday Street Fest & Fireworks!
rio will be hosting a Holiday Street Festival from 2-5pm with live music, ice sculpting, s'mores a DIY Hot Cocoa Jar Workshop, photo ops, and more, followed by fireworks over the lake at 6:45pm.
There will also be a Music & Cheers Station by Dave & Buster's on the Boardwalk Stage (near Guapo's)

Firework show will be visible throughout the lakefront and last approximately five minutes. There are plenty viewing options throughout rio –  along the Boardwalk, on Restaurant Patios, Fire Lounge, etc.!
4. Holiday Lights in the Town of Poolesville


Date: Tree Lighting Event December 3 at 6PM
Location:  19721 Beall St, Poolesville
Make the trek to Poolesville this December and see the fantastic light display in front of Town Hall. The official tree lighting event is on December 3rd and will feature ice sculpting,  letters to Santa, and caroling. The lights will be displayed nightly throughout December.


While in Pooleville, grab dinner at one of the great local restaurants like Basset's or Cugini's.
Visit www.poolesvillemd.gov/439/Holiday-Lighting-Ceremony for more information.

Date: Every Sunday
Time: 9am-1pm
Location:  2801 Olney Sandy Spring Rd, Olney
The Olney Farmers & Artist Market is one of the only markets in Montgomery County that is open year round. Here you will find traditional market staples like produce, baked goods, flowers, as well as dozens of local artists selling everything from hand-carved cutting boards, scarves, mittens, hats, face masks to stained glass and bird-themed wallets.
During the holiday season there are vendors selling fresh cut Christmas trees and wreaths.


"We have more Winter vendors than ever before, offering a wide variety of produce and food. We also have handmade jewelry, one of a kind crafts and local artists. It's a great place to do your Holiday shopping.
The Market runs year-round, rain or shine, from 9 am to 1 pm. We're located on the Medstar Hospital Thrift Shop site, at 108 and Prince Philip Drive. There's plenty of parking, both in the lot adjacent to the Market along 108 and opposite the Thrift Shop on Prince Philip. Special provisions for disabled customers. Anyone elderly or disabled will be able to park closer in. If you'd like to make arrangements in advance, call 202 257 5326."
2. A Christmas Carol at the Olney Theatre Center


Date: November 26-December 26 (see website for schedule)
Location:  2001 Olney-Sandy Spring Road, Olney
Tickets: www.tickets.olneytheatre.org
For the 12th year in a row, Paul Morella will be giving a solo performance of the Dickens classic at the
Olney Theatre.
From the Olney Theatre Center:
It wouldn't be the holidays without Olney's favorite Christmas tradition. Paul Morella's captivating solo performance of the Dickens classic keeps audiences coming back season after season. They come for the masterful storytelling and come back for the way Paul keeps this tale fresh, year-after-year.
Experience the unforgettable characters and vivid imagery as Charles Dickens originally intended – in his own words – and rediscover this timeless classic presented in a masterful solo performance. Adapted from Dickens' original novella and reading tour, Morella's solo version will transport you back to Victorian England and into the heart of this classic morality tale. This critically acclaimed production has become a holiday must-see.
Honorable Mention: Festival of Lights at D.C. Temple


Unfortunately due to continuing COVID-19 concerns, the closure of Beach Drive for bridge replacement, and The Church of Jesus Christ of Latter-day Saints' focus on the Washington DC Temple Open House and Rededication in Spring 2022, the 44th Annual Festival of Lights has been cancelled. We hope to see the Festival of Lights return in 2022!
1. Winter Lights Festival in Gaithersburg

Date: November 26-December 31(Closed December 25)
Time: Sun-Thurs 6 p.m. to 9 p.m., Fri & Sat 6 p.m. to 10 p.m.
Location: 11950 Clopper Road, Gaithersburg
Tickets: https://www.gaithersburgmd.gov/recreation/special-events/winter-lights-festival
From the City of Gaithersburg:
Winter Lights Festival, which has always been the perfect socially distancing holiday event, welcomes visitors back for its 26th spectacular season. Due to a significant increase in the popularity of this event, tickets must be purchased in advance & are only good for the specific date listed on the ticket. These changes have been made to ensure a positive & safe experience for all visitors, event staff, & those who live near the Festival venue. Tickets can be purchased online here.
The wondrous display of lights at Seneca Creek State Park will be open nightly November 26 through December 31, Sunday through Thursday from 6 to 9 p.m. and Friday & Saturday from 6 to 10 p.m. Please note that the Festival will be closed on December 25. The park is located at 11950 Clopper Road, just a few miles west of the intersection with I-270.
Advance online ticket purchase is required; tickets will not be available at the admission booth. Admission is $15 per car Monday through Thursday and $25 per car Friday through Sunday. Tickets must be purchased for a specific date, and are only good for that date. Exchanges are available in advance only, subject to availability. This event is likely to sell out; early ticket purchase is highly recommended. Note that vehicle drivers are required to wear a mask at the admission booth.
The 3.5-mile drive through the enchanted woodland setting of Seneca Creek State Park that opens on November 26 takes you past more than 450 illuminated displays & beautifully strung trees that light up the night. Festival favorites include a Fairytale Castle, Winter Woods, Victorian Village, Mermaid Lagoon & an enchanting Fantasy theme.
For complete details & admission rates for large vehicles, please visit the Winter Lights Festival page.
'